WE ARE
ShootersPages.com

The Directory for
TX, LA, OK, FL, MS, NE, NM, AR, AZ, IA
Trap, Skeet, Sporting Clays Rifle, Pistol, Archery, Hunting

Email
shooterspages@gmail.com


ATTENTION - SHOOTERSPAGES.COM NEW POLICY
Fun Shoots (unregistered shoots) will now be listed for free on the calendars! Clubs may list up to two events in any week READ ON REA(
Our intention, with the ShootersPages.com website, is to promote the shooting sports.
Supporting the clubs & organizations is one of the best ways to assure we continue to have plenty of great shooting venues.


Check our calendar
CAPITOL CITY
AUSTIN TX
OPEN WED-SUN
9AM - 7PM
(6PM WINTER)
512-272-4707
EMAIL ; WEBSITE
4 Skeet / 2 Trap
Wobble Trap
TWO COURSES
Sporting Clays
5 Stand Leagues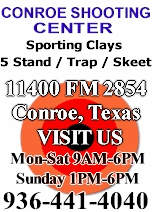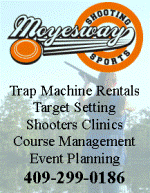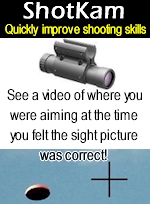 Our sponsors keep this site FREE! Please check them out.

Clubs / Ranges / Events / Results : Sporting Clays, Trap, Skeet, Rifle, Pistol, Archery, Hunting; Clubs may email cbarton22@aol.com the results of competitions and ShootersPages / ShooterspageTX will post the results for FREE

WebUp Management can create a website that will allow you to participate in this great new world of Internet advertising. We pride ourselves in providing economical yet exciting websites. If your business doesn't have a website because you think it's too expensive, please allow us to show you your options. Email or call: 281.808-2585 Web Up America (Cindy Barton). We can design and modify websites for ANY application, big or small.
We'll Get Your Web Up and Running!


Want to get the word out about an UPCOMING EVENT?
Use a ShootersPages FLYER PAGE for your Shooting Event or Clinic.



Click to view
Home Page listing
all Forums
in Bulletin Boards

General Forum
LATEST NEWS REGARDING CANCELLATIONS, WEATHER UPDATES, CLUB INFO
& all the General Chit Chat
Let's talk: shooting, events, people, organizations

Ask The Experts

Forum


Shooting Questions?
Vance Barnes - shotgun sports TX Academy Of Wing Shooting
Steve Fischer - gunsmith stevefischer2@bellsouth.net
Mike McAlpine - Course Design MMc9024@aol.com
Phil Murray - Skeet Murray826@aol.com
Chuck Webb -

Ex

Briley gunsmith h6143@yahoo.com
These Experts are qualified to answer questions regarding shooting sports. Ask your question, and you may get

5

different points of view!
And, anyone....feel free to add your "two cents worth"...we all have some wisdom to share.

Trap Machines Forum
Problems with a trap machine?
Post your mechanical trap questions/comments. Let's help each other!